So do not fear, for I am with you;
do not be dismayed, for I am your God.
I will strengthen you and help you;
I will uphold you with my righteous right hand.
Isaiah 41:10
It's been a rough week – lots of ups and downs and in betweens, with kids sick and school frustrations, with financial challenges, and just… life challenges. I've had to capture my "anxiety" thoughts more times than I can count this last week.
So, this week's verse is a comfort to me. God is with us. He is our God. And he will strengthen and HELP us. He will hold us in his hands. I don't know about you, but there are times when I wish I could just crawl up into His heavenly lap and cry for awhile. The thought that he PROMISES to be there, to help me and to hold me in his hand? That's just what I need today. Maybe you do too?
If you'd like to have this week's phone wallpaper/background, you can get it by clicking on the image below: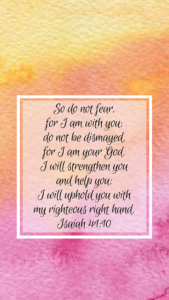 I hope you feel comfort if you need it… strength when you are weary… and a certainty of his presence in moments of fear and anxiety and dismay.